An amalgamation of Companies who freely undertake to provide " live" credit / payment information on their clients, in an honest and un-biased format.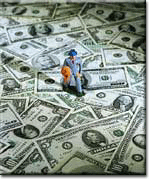 This credit information correlated by D.D.C. is used to provide credit reports that reflect "the actual trading / payment habits" of Companies.
This information can then be assessed by other Credit Bureau Members, both prior to, and presently offering credit facilities to a Company, thereby determining the "Credit Worthiness" of that Company.
Present Companies who are active Credit Bureau Members within the UAE and support the system by providing credit information, number several hundreds. Companies registered constitute a whole cross section of business sectors operating throughout the Emirate creating a formidable CREDIT NET.
The support of ONE Company offering this information thereby offers credit protection to Hundreds of other Credit Bureau Members. The Hundreds of other Credit Bureau Members in turn, by providing credit information, protects the One company.
Membership subscription is paid annually. Decol Debt Collections LLC can register your company on an International Credit Bureau database. A registration certificate is provided as well as a Credit Bureau Stamp. The stamp (seal) should be placed on all invoices, denoting your Company's Credit Bureau Membership status. Failure by your client to pay the creditors invoice as per terms and conditions agreed, should result in the Client being reported to DDC for registration on the Credit Bureau database. Other Members, who are then approached by a defaulter, seeking additional credit, can access this late / non payment information. Effective use of this data can protect your Company against unscrupulous vendors.
No access or information contained or held within our databases is provided to Non Credit Bureau Members